Africa, Indian Ocean Islands | Mauritius | All Inclusive, Beach, Eco Friendly, Family, Group, Honeymoon, LGBT, Sustainable, Tailor Made | Boutique, Hotel | Beach, Island | Comfort
Zilwa Attitude, situated on the north coast of Mauritius, known for is truly local Mauritian concept shown throughout its architecture, decoration, cuisine and experiences offered. In Creole, zilwa means an islander. Entirely thought and designed with the aim of sharing the simple and genuine life of the islanders with its guests, this 4* hotel is a hymn to Mauritius. Right through, the choice of artists' work and local material used are true illustrations of the prevailing Mauritian soul. Zilwa Attitude offers a panoramic view over the 5 northern islands. The contemporary and rustic chic architecture and design of the hotel take inspiration from the traditional homes, the old seaside bungalows. The 214 rooms have been customised to match the needs and expectations of each guest; in each category, the rooms have their own identity and personality.
Royal Road, Calodyne, Grand Gaube, Mauritius
Zilwa Attitude, situated on the north coast of Mauritius, in Calodyne with close access to lots of small islands to explore. The beaches on the North coast are know by the locals as the softest sands on the island with much calmer seas within the lagoons. The transfer time is between 1 hour and 1 hour and 15 minutes.
Inspiration drawn from typical old seaside bungalows
Contemporary rustic chic Mauritian design
In rooms a pair of Mauritian typical "savate Dodo" (flip flops) for guests to take home
Floated wood, waxed concrete "béton ciré" floors, rough walls, design details, trendy bright colours
Zilwa Attitude offer charming holiday homes built along the beach, with thatch, tin or shingle roofs, wax-polished "béton ciré" floors, rough walls, bright colours and other material are reminders of an island's typical way of life. True to the hotel concept, guests can discover at any of the 7 special theme restaurants a delicious cuisine, a blend of spicy and exquisite tastes, a culinary know-how acquired from the cultural diversity of the island. Zilwa Attitude invites families, couples and newlyweds to live experiences inspired from local traditions: a sunrise pirogue trip or a treasure hunt for kids, among others. Zilwa has many fun and relaxed activities: the miniclub Ayo le Dodo well nested in an old restored boat, the boathouse, the Spa Vilaz Masaz and last but not least a Robinson day on Ti Zil and Gran Zil, two private wild small islands. The ideal address for holidays full of emotions and pleasures, encounters and discoveries; the perfect place to relax, to unwind or just to slow down. The hotel offers a 'All-in-All-out' package which includes:
Breakfast at the main restaurant
Lunch at Lor Disab, Taba-J, Gran Zil and Siro Kann bar
2 dinners at Lor Disab restaurant (for a minimum stay of 5 nights)
Dinner: Dine Around applicable in four restaurants: Tadka, Siaw, Kot Nou and Karay (for every minimum stay of 3 nights)
A selection of local beverages: water, beer, tea, coffee, soft drinks, table wine, locally bottled alcohols and spirits
A selection of drinks from the mini bar
Tea, coffee and sweet local goodies from 15:30 to 18:00 at Taba-J
Local snacks served with evening drinks
Picnic baskets for day excursions
Optional: breakfast, lunch and dinner in one of the other Attitude hotels (this offer is applicable to a selection of restaurants upon availability, 24h prior booking. Transfer not included)
20% discount on one "Mauritian massage" or bookings between 09:00 and 14:00 (for every minimum stay of 5 nights)
Note: At extra cost per person per night – this option should be taken by the whole family, guests sharing a room or guests staying in interleading rooms (children included).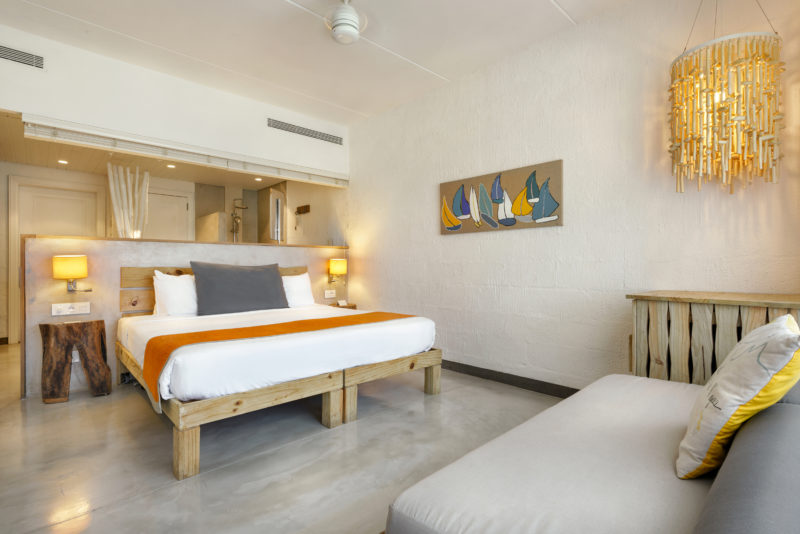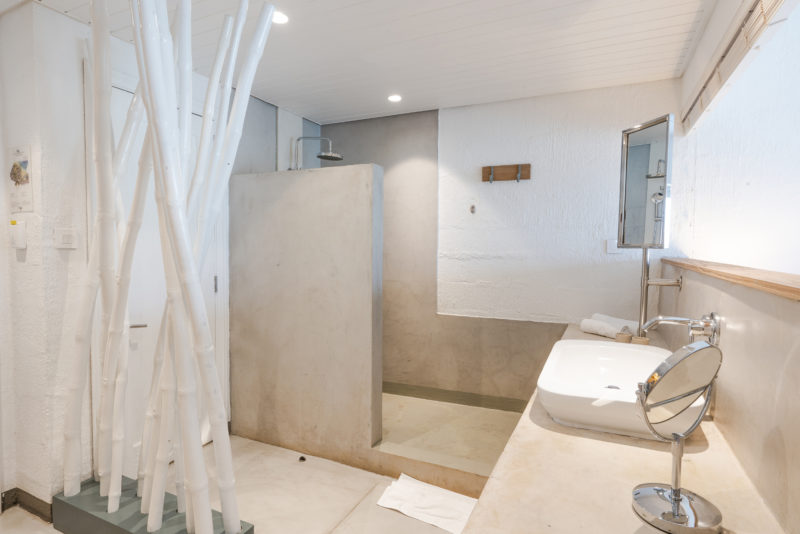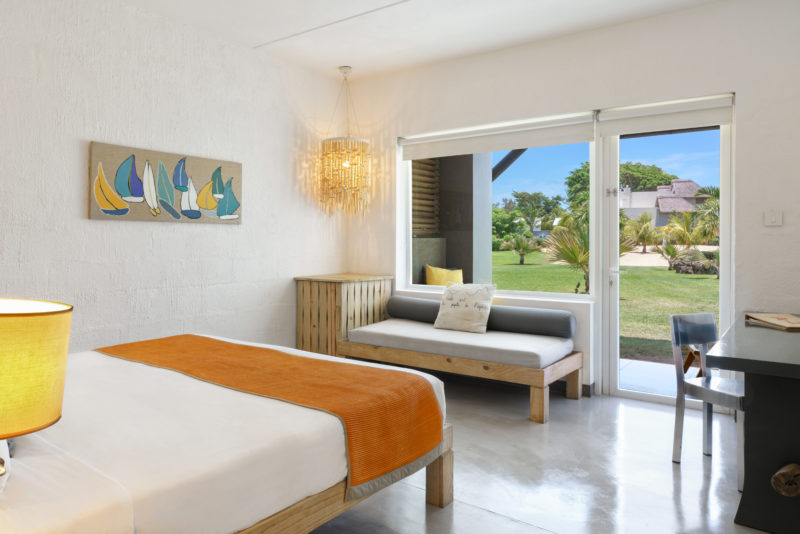 Superior Rooms
Rooms are decorated with care in the perfect tradition of the island's culture and fully equipped to encourage a comfortable and relaxed holiday. They open up on a furnished terrace or balcony offering thus a beautiful view on the garden, the beach or the lagoon, contributing to the magic of the place. They are fitted with either a double bed or two single beds. They can accommodate 2 adults + 1 child (0-12 years old incl.).
Superior with partial sea view room
Superior Sea view room
Superior Beachfront
Inter-leading rooms available
35m2
2 adults + 1 child (0-12 years old incl.)
Terrace and/or balcony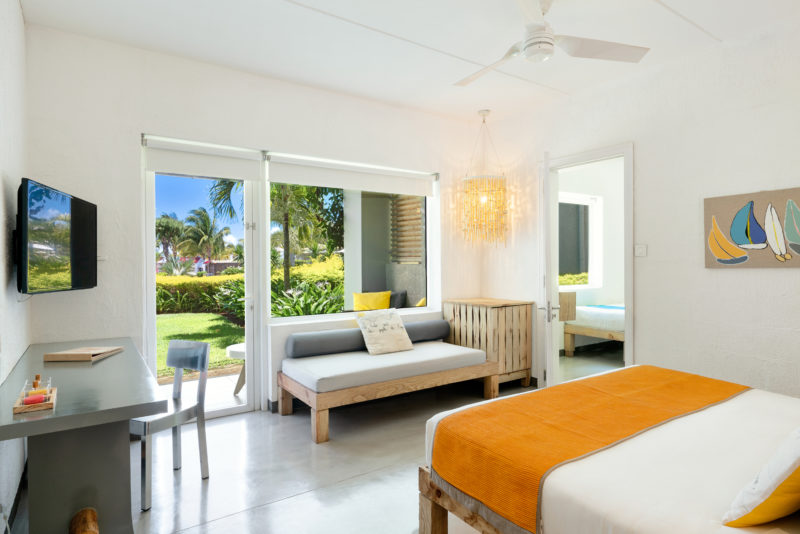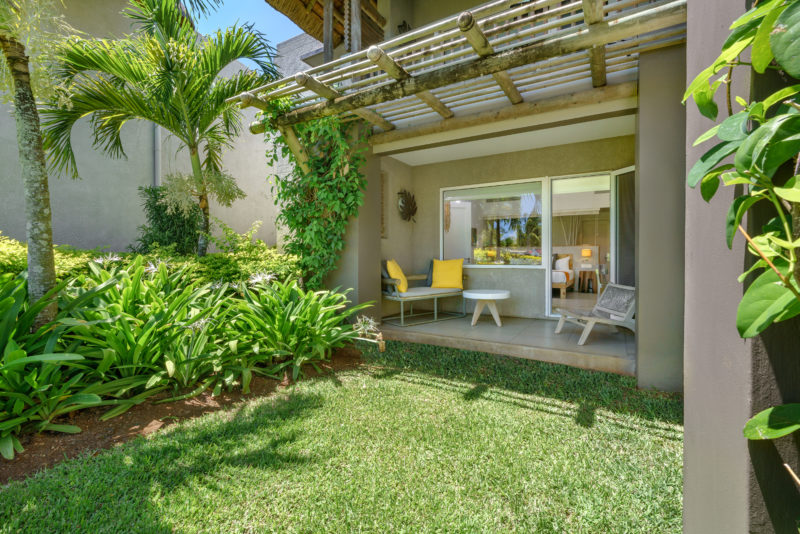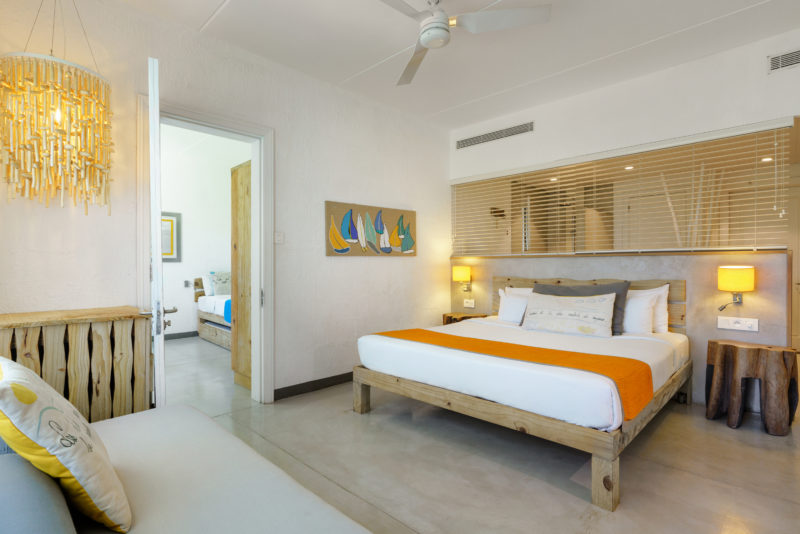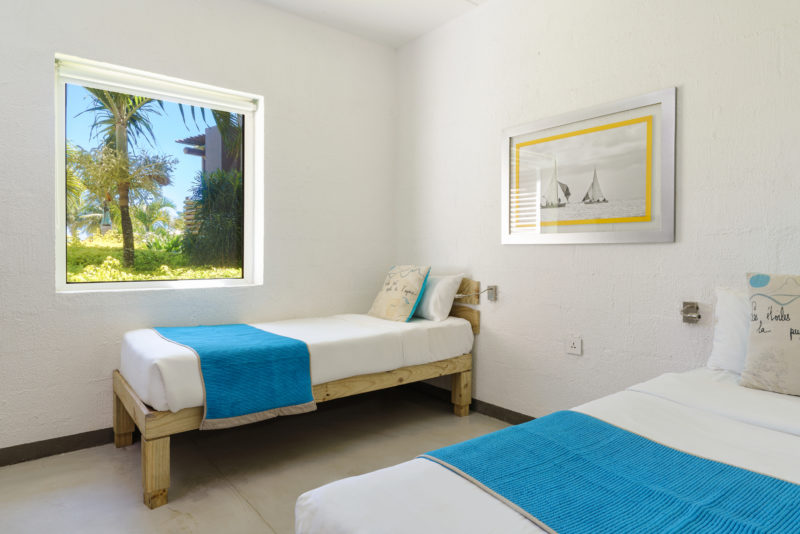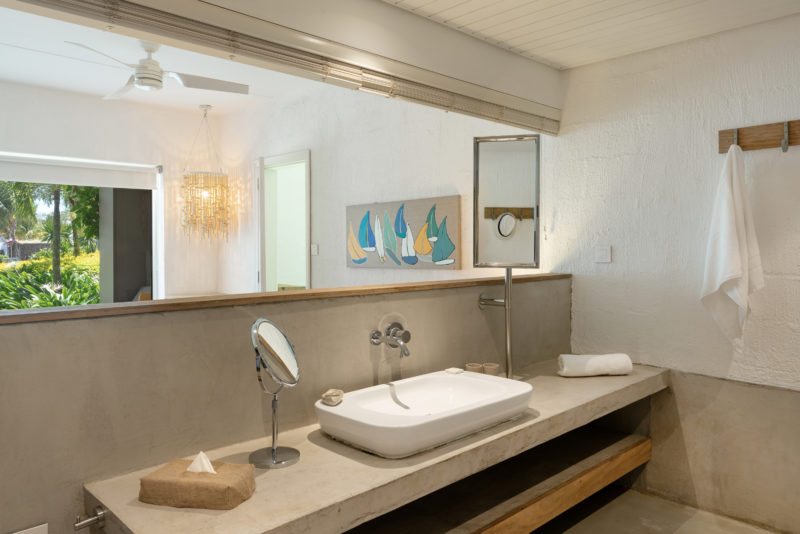 Family Deluxe Rooms
Family Deluxe rooms are well fitted with a refined decoration. They are all situated on the ground or first floor and open up on a furnished terrace or balcony. With a separate kid's room fitted with its own bathroom , it offers additional intimacy and comfort. Here, is enough space for everyone to breathe and relax!
50m2
2 adults + 3 children(0-12 years old incl.)
2 adults + 2 teenagers + 1 child (0-12 years old incl.)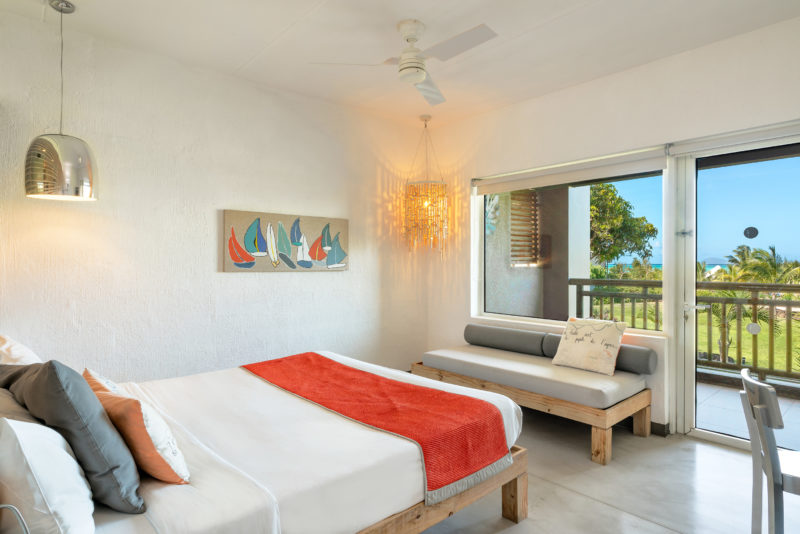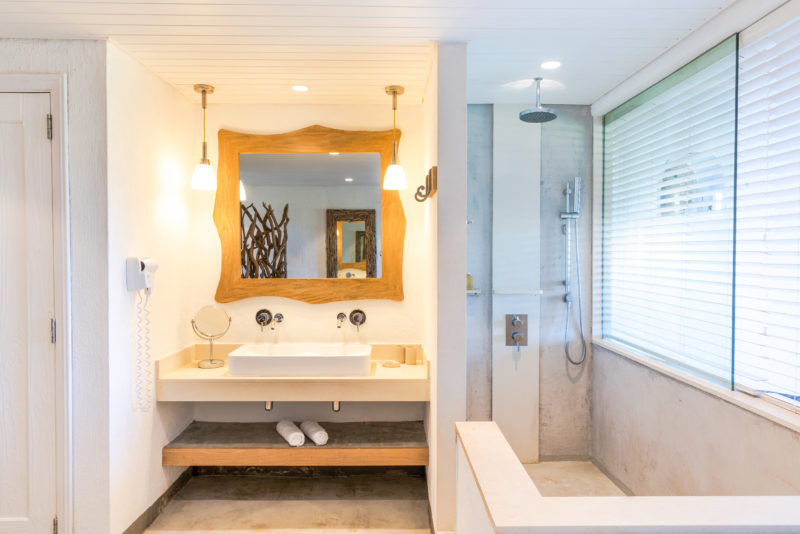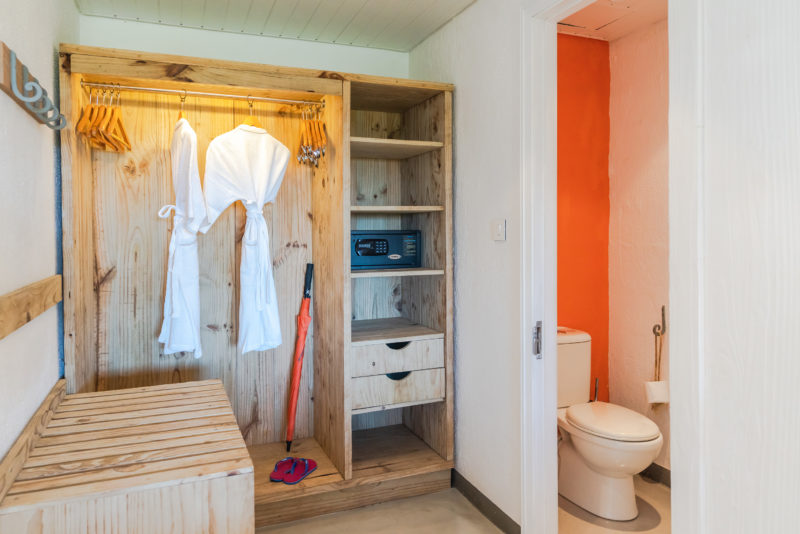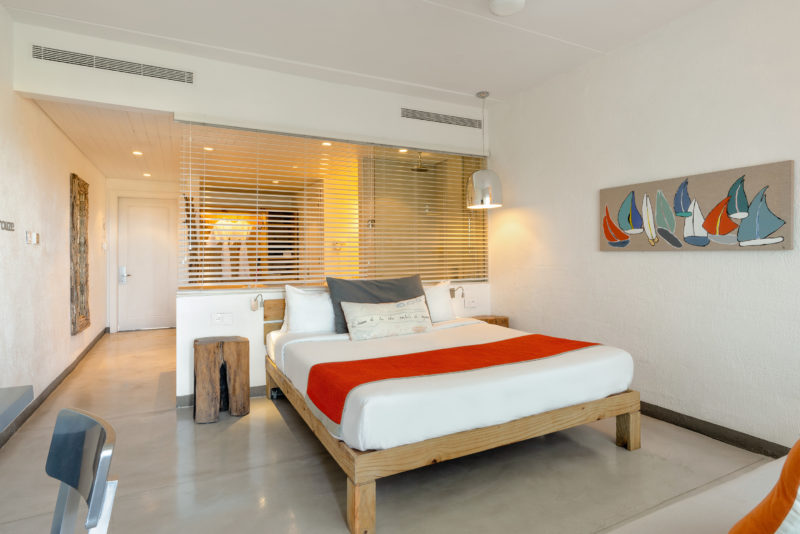 Couple Deluxe Rooms
Situated on the first floor, these 40 m2 couple deluxe rooms are comfortable and charming. They are decorated in shades of light grey, white and orange and all open up on a furnished balcony.
Couple Deluxe with partial Sea view room (balcony)
Couple Deluxe Beachfront room (balcony)
40m2
Accommodates 2 adults only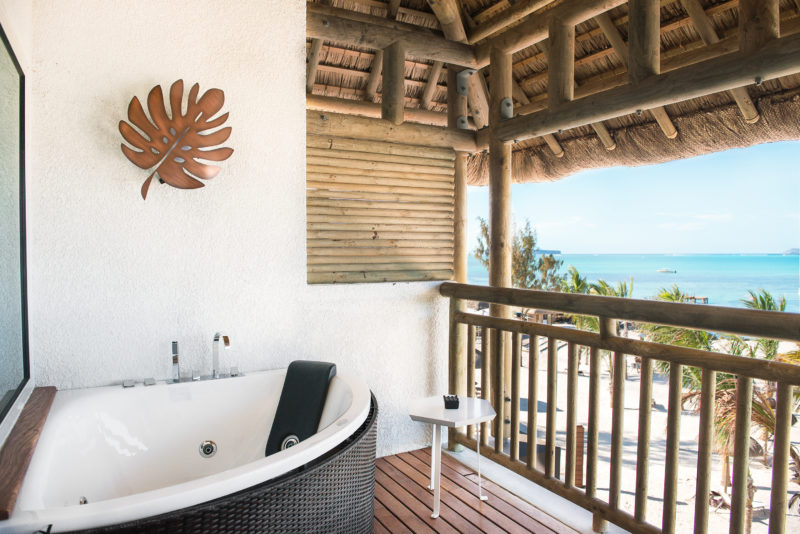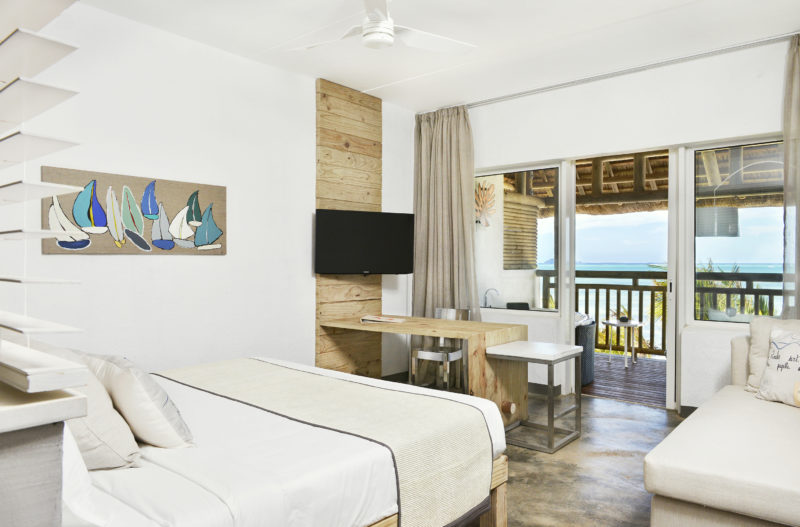 Couple Privilege Suites
A protected balcony featuring a Jacuzzi with a stunning sea view and private outlook. Privilege Couple Suite Beachfront offers a stunning view on the Mauritian Northern Islands with the extra luxury on offer.
Couple Privilege Suite Sea view
Couple Privilege Suite Beachfront
40m2
Accommodates 2 adults only
Located on 2nd floor with balcony or beach front terrace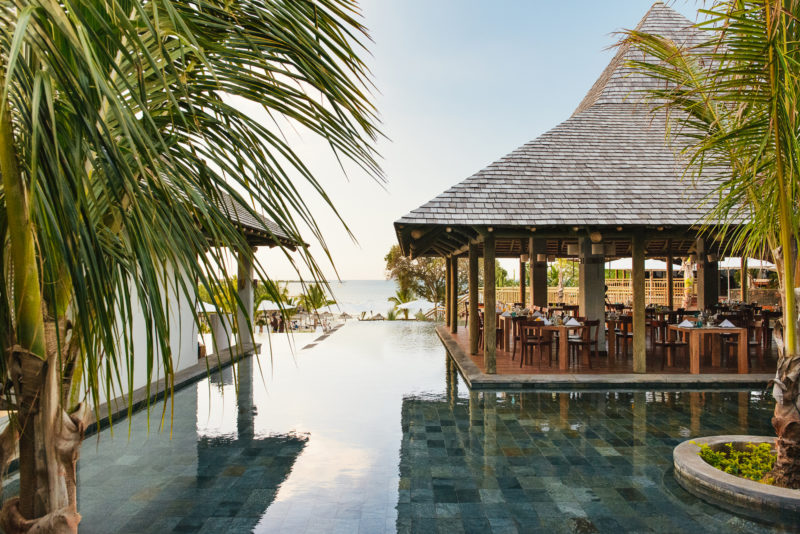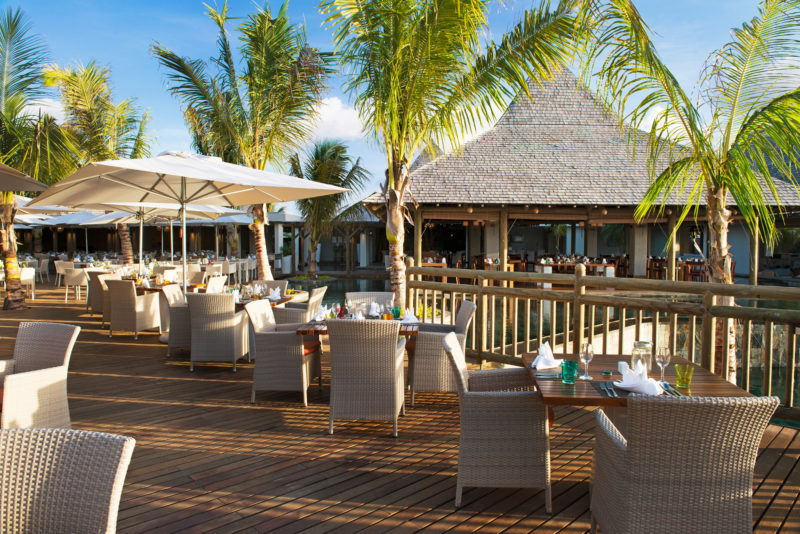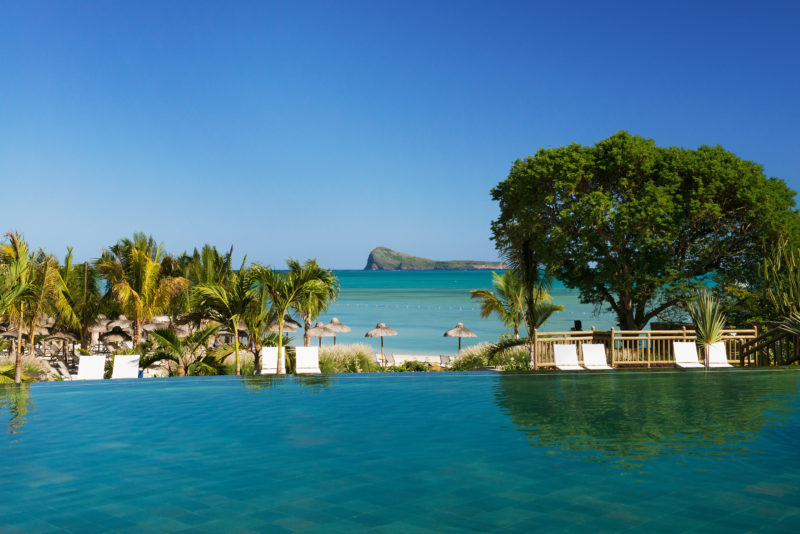 Karay Restaurant
The main restaurant "Karay" has a beautiful view over the lagoon, the northern islands and the hotel's infinity swimming pool. Its name, is the Creole word for a very precious Mauritian kitchen utensil, the counterpart of the "wok" in Chinese kitchens. The decoration is refined, along the walls, old doors from demolition wood, over the buffet area, suspended lights. A little nod to those old style bungalows with rattan furniture, orange cushions and mother-of-pearl inlays. At dinner with a special theme buffet for each evening of the week as well as at breakfast with the Mauritian delicacies corner, all the culinary influences so particular to this island, invite the taste buds on a very special trip.
Seats: 350
Breakfast: from 07:00 to 10:30
Sandwiches & salads available at Ilot Karay from 12:00 to 18:00 (included in All-in-All-out and Full-Board packages)
Dinner: from 18:30 to 22:00 (open every day)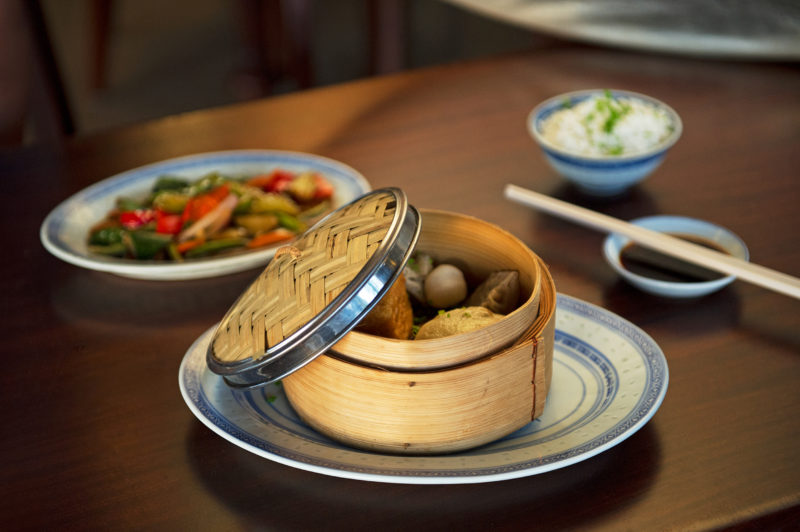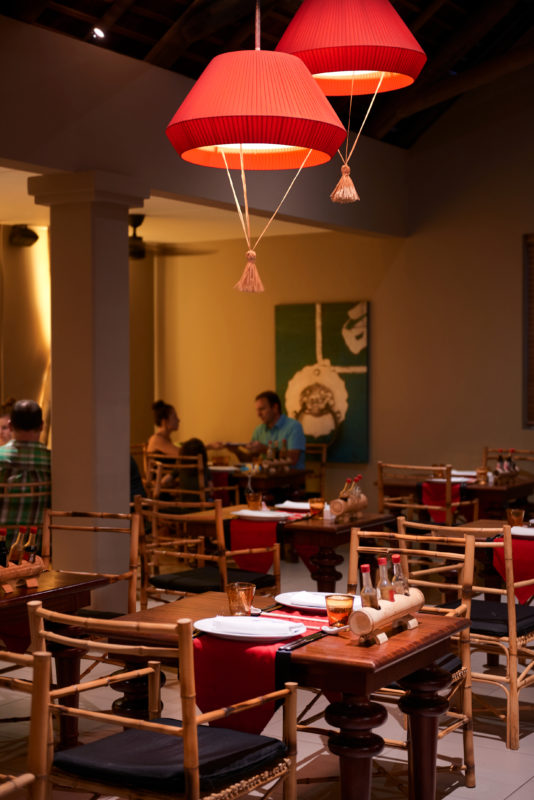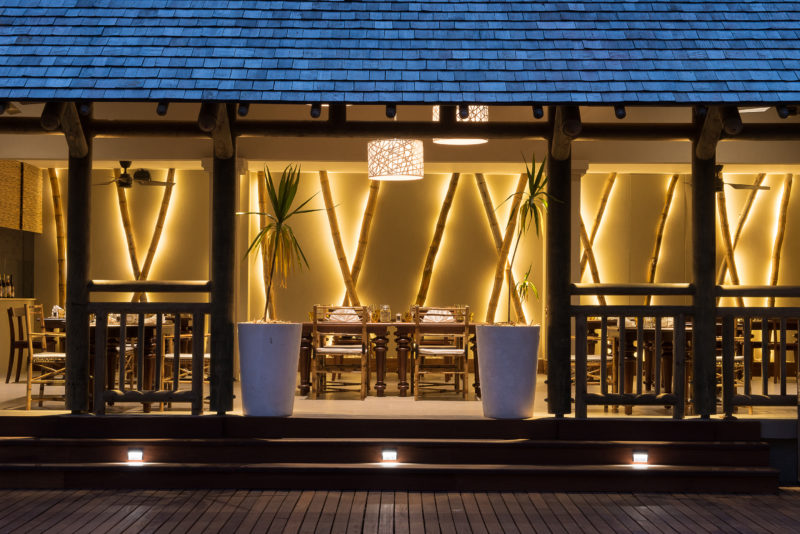 Siaw Restaurant
The Mauritian people are very fond of this so typical Sino-Mauritian cuisine as it is called here, a mix between Chinese and Creole cuisine. Here, the "live cooking" concept is a show by itself, watch the chefs and enjoy…Carpe diem! The modern Zen decoration and the lighted bamboos at night are magic!
Sino-mauritian specialities
Live cooking
Seats: 40
Dinner: from 18:30 to 22:00
Open 6 days a week upon reservation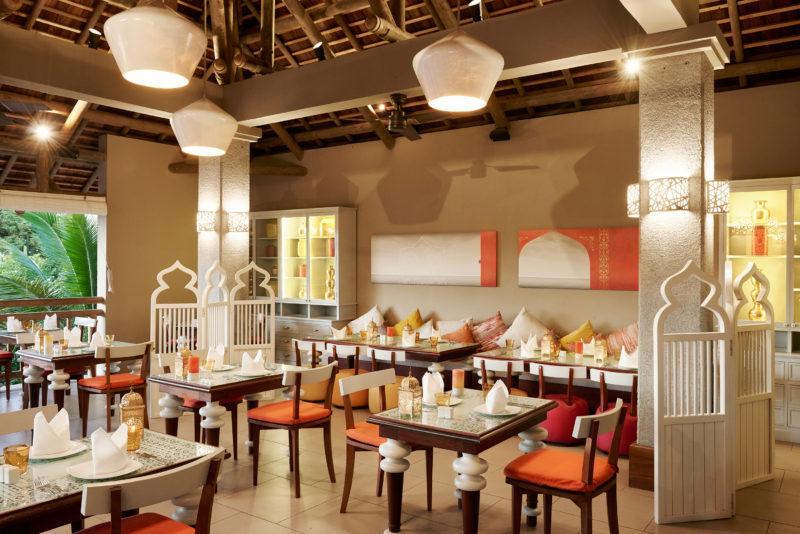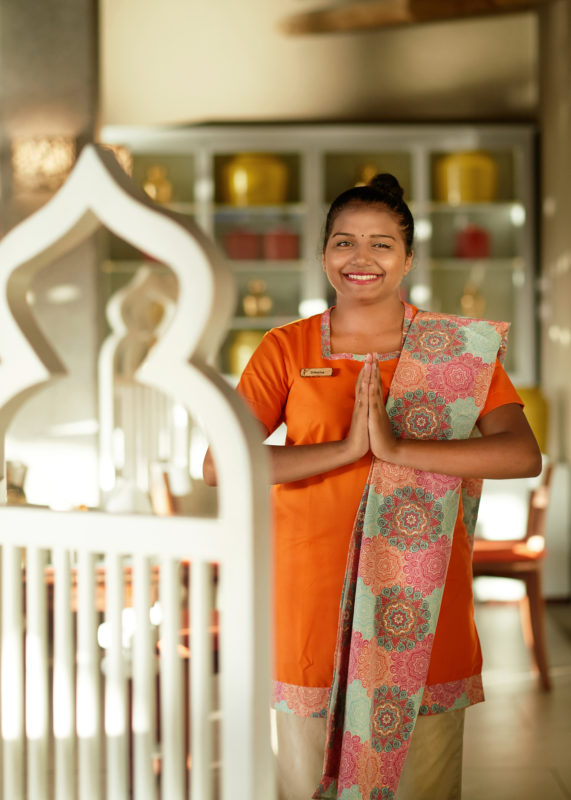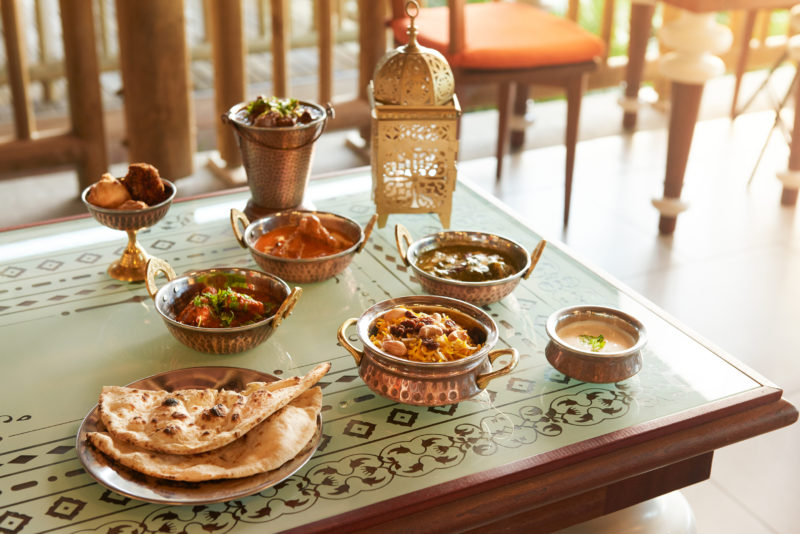 Tadka Restaurant
The Tadka is the ideal address to discover Indian specialities. Murg Kundan Kalia and Bhuna Gosht among others will delight your taste buds. The décor is fabulous, the colourful wall coverings remind us of the beautiful sarees worn by Indian women. Namaste!
Indian specialities
Live cooking
Seats: 40
Dinner: from 18:30 to 22:30
Open 6 days a week upon reservation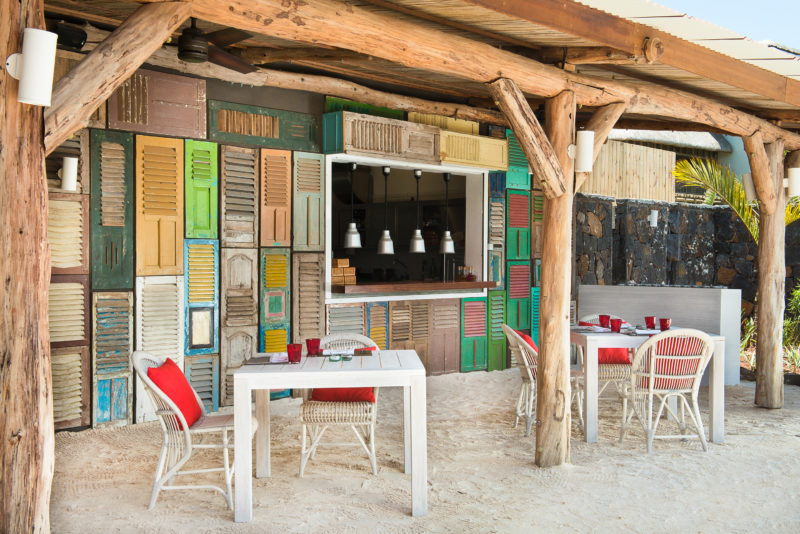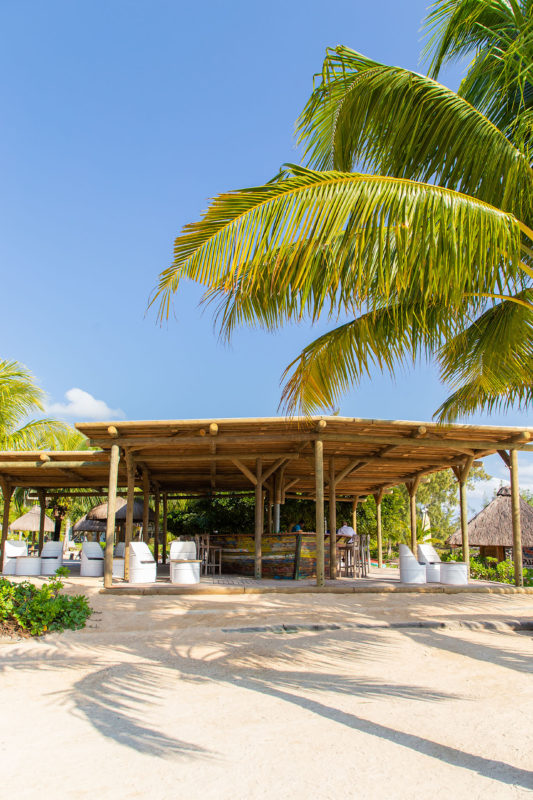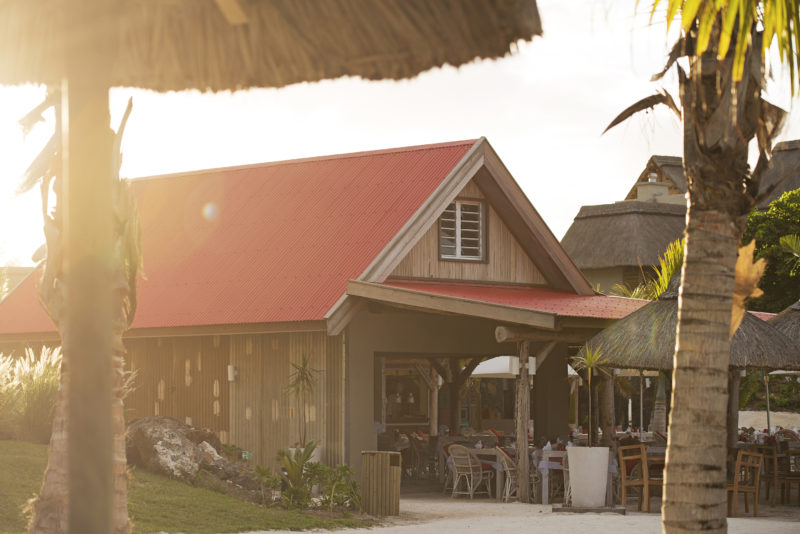 Lor Disab
"Lor Disab", the Creole word for "right on the sand", welcomes guests in a relaxed atmosphere, feet buried in the sand. Its bright red roof pays tribute to both Cap Malheureux's red roofed church and the little house on Mouchoir Rouge. The open verandah, the wooden poles, Malcom de Chazal paintings on the walls, the white ceruse tables, the rattan chairs and their red cushions as well as the shady straw huts, are all reminders of this traditional holiday cottage atmosphere of times gone by. At lunch time sandwiches, salads and typical Mauritian dishes are served. In the evening, the restaurant caters for guests over 16 and offers a wide choice of dishes, all with a local touch.
Beach restaurant
Lunch: buffet from 12:30 to 15:00
Dinner: à la carte from 19:00 to 22:00
For adults as from 16 years old onwards
Open 6 days a week upon reservation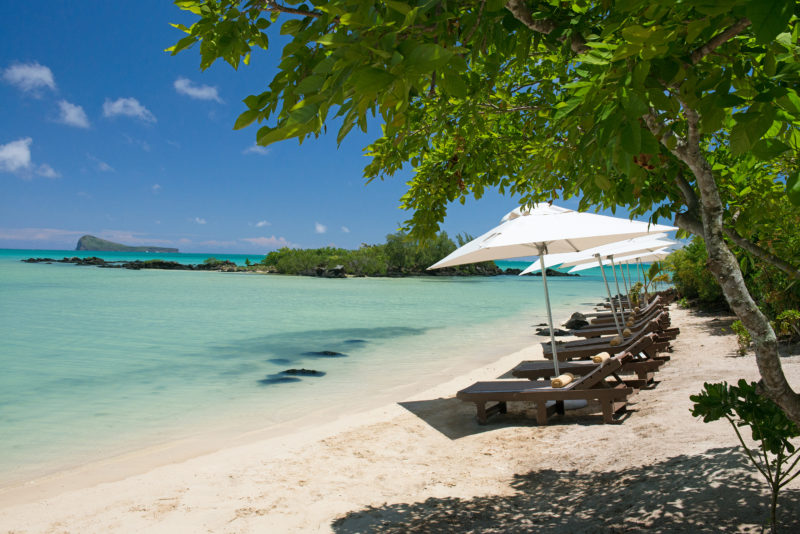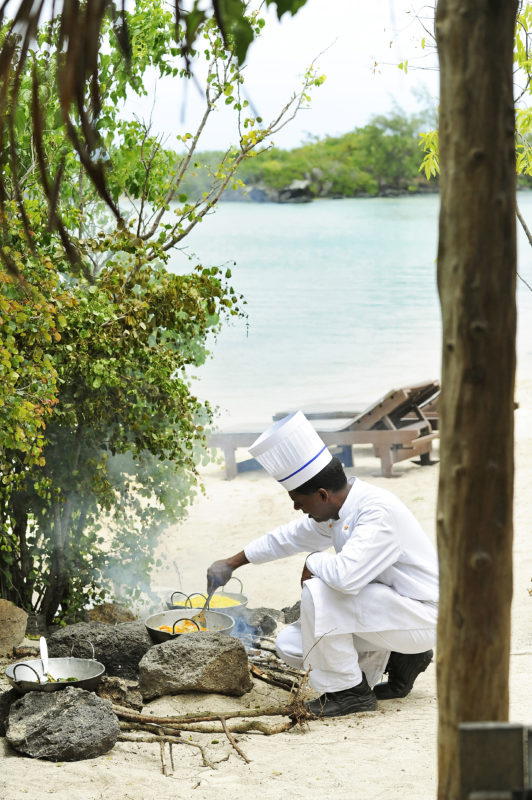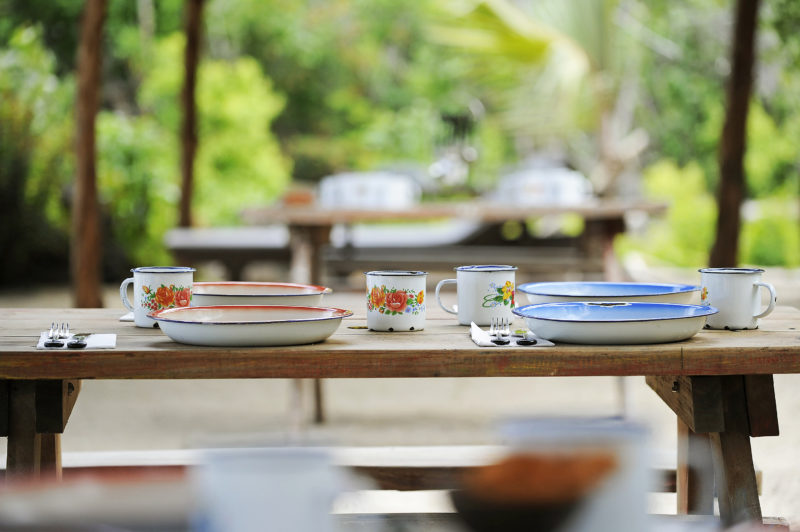 Gran Zil BBQ
Gran Zil at lunch time, be the Robinson Crusoe of the 21st century! You are guaranteed new exotic surroundings and no stress. Sip your drink in the sea and enjoy a delicious barbecue prepared by one of our Family Members. Eat like a local on the beach with a nod to the metal beach crockery known to be durable.
BBQ Cuisine
Seats: 60
Lunch: from 12:30 to 14:30
Open everyday, upon reservation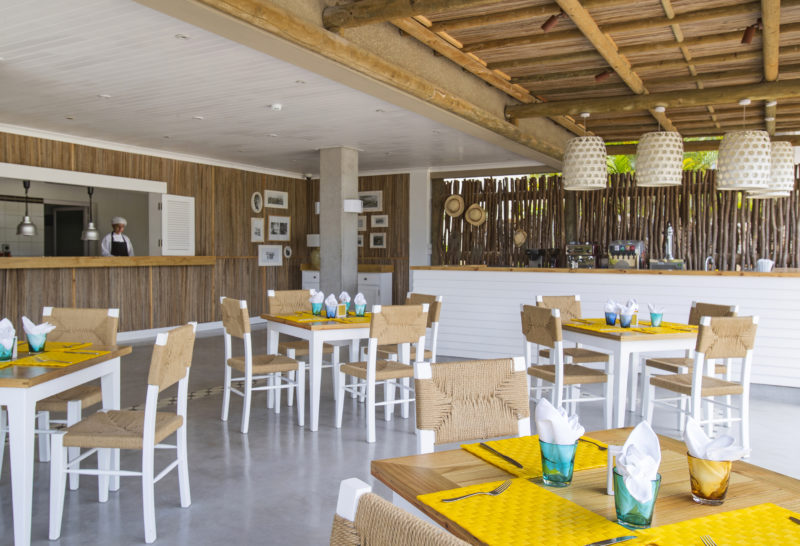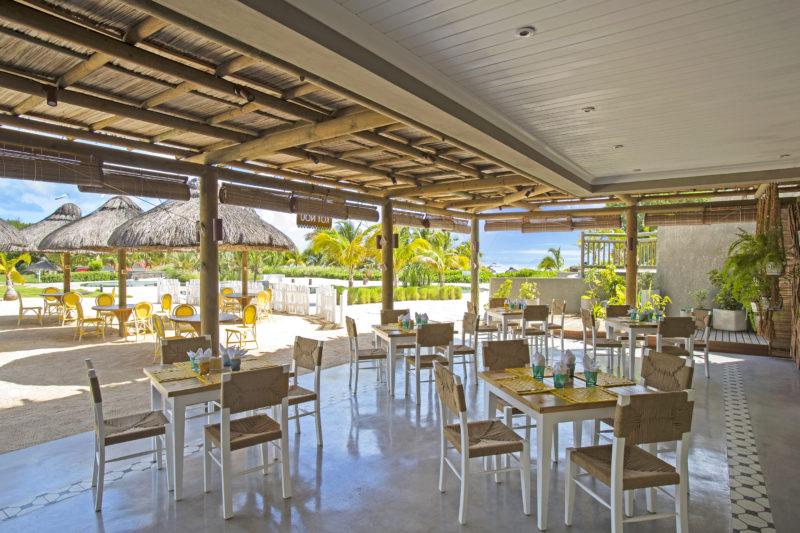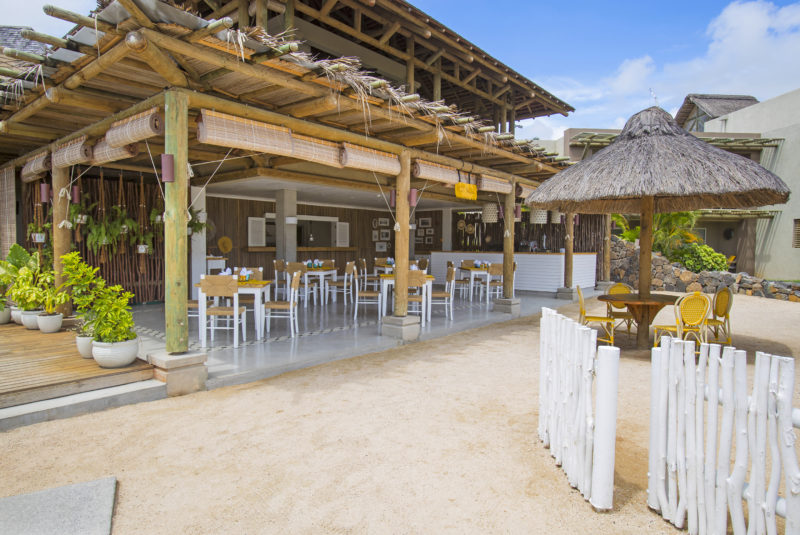 Kot Nou Restaurant
Kot Nou, the Mauritian signature restaurant of the hotels Attitude, is now operational at the hotel Zilwa Attitude. Kot Nou means 'at home' and is the genuine Mauritian home cooking, colourful and deliciously flavoured!
À la carte
Cuisine: Typically Mauritian
Seats: 30
Dinner: from 18:30 to 22:00
Upon reservation
Open 6 days a week upon reservation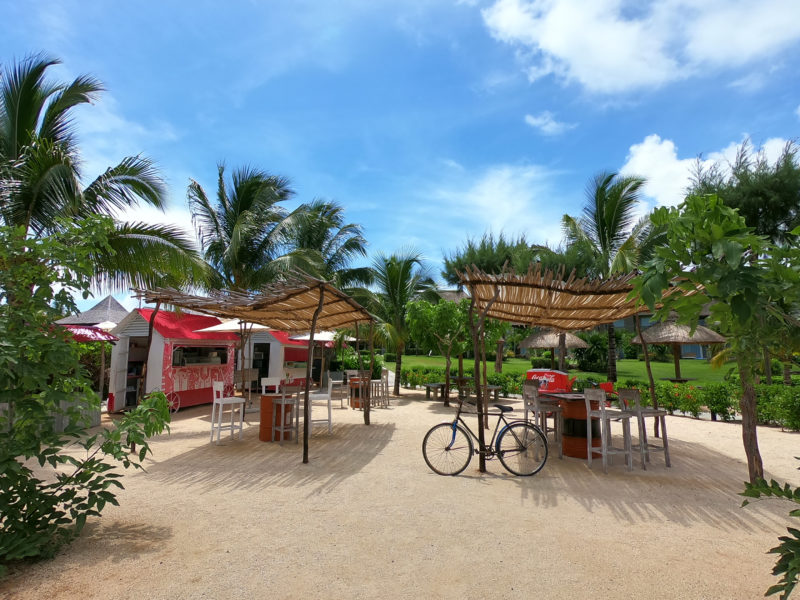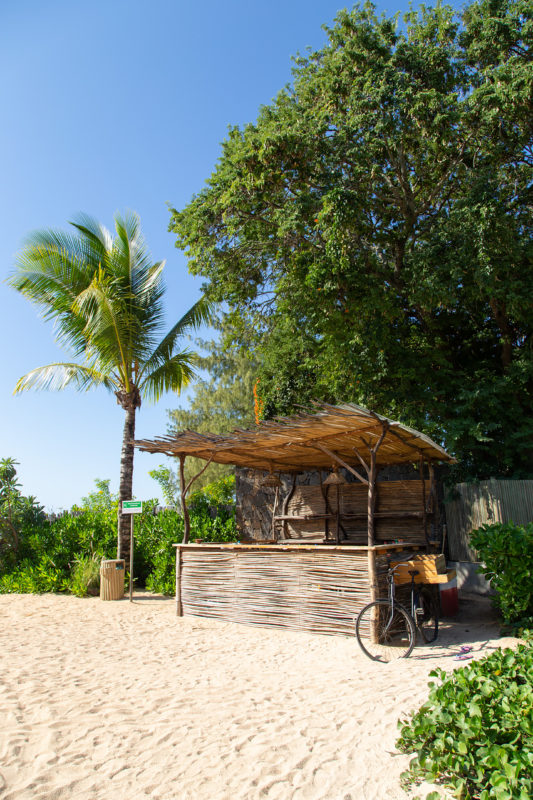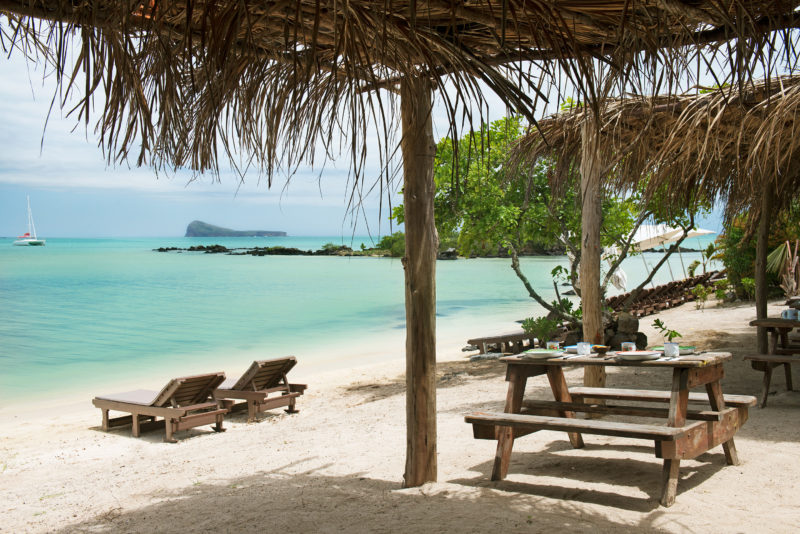 Taba-J Beach Stalls & Beach Bar
Taba-J is the beach fast food or street food outlet. Named after the "Tabagies", small Mauritian grocery shops selling fast food or edibles. Here at Zilwa Attitude, you will be overwhelmed by the rustic and so genuine look of our Taba-J. You will not only taste but thoroughly enjoy our local "rotis", "faratas", "dholl puris" and traditional Mauritian rolls filled with "Cari Zordi", today's curry, pickles and Mauritian chutneys. Also ask for the upside down bowl, another local speciality… Delicious!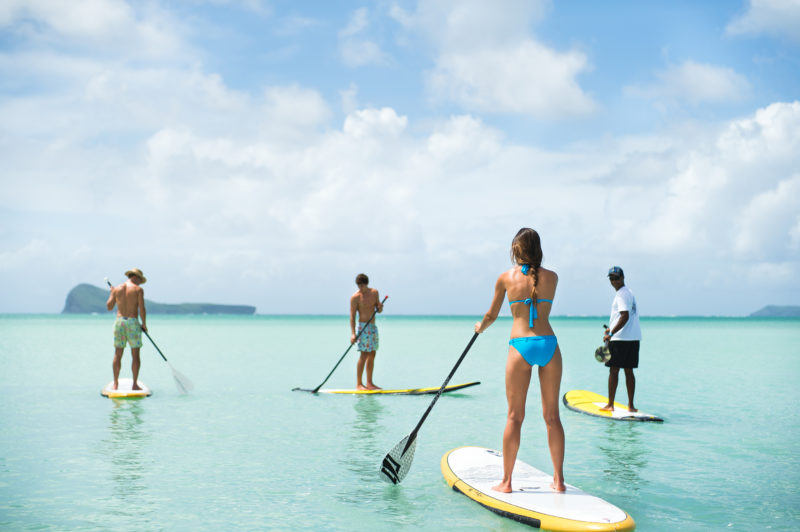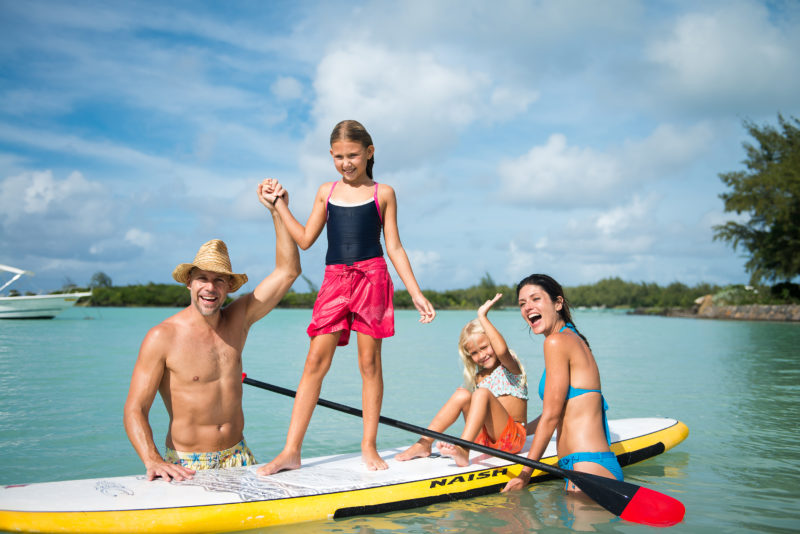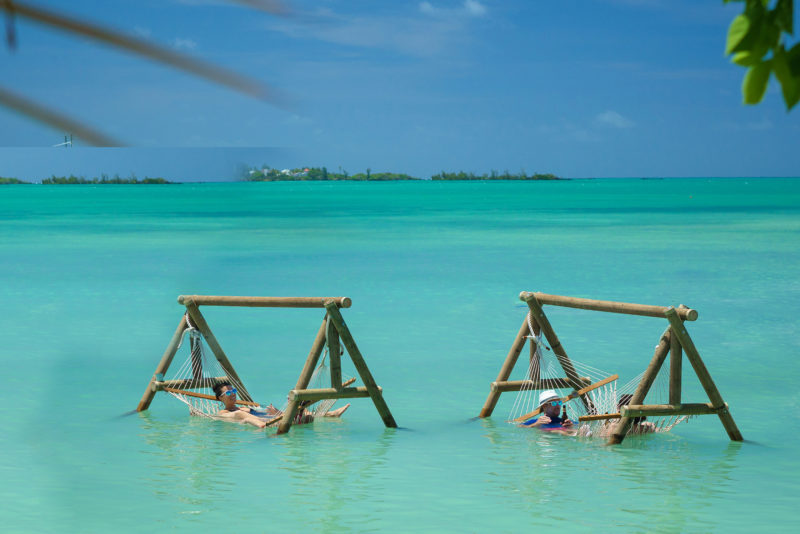 Stand Up Paddle Boarding
Stand up paddle is a very popular and fashionable nautical sport for the whole family. Standing on a board, with only a paddle to move and progress, it is ideal to discover the beauty of the coast and explore the lagoon. Enjoy your tropical holiday differently, no need to rush, each one its own rhythm.
Time and Venue: The boathouse open every day in summer between 9:00 and 18:00; in winter between 9:00 and 17:00.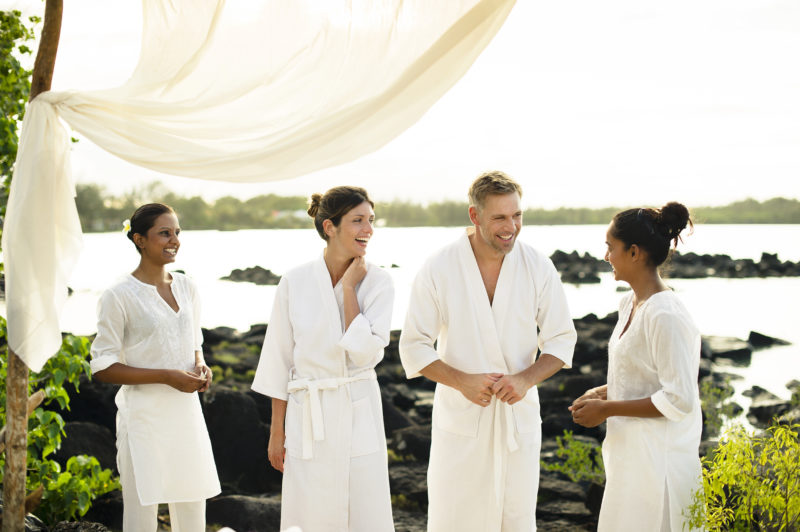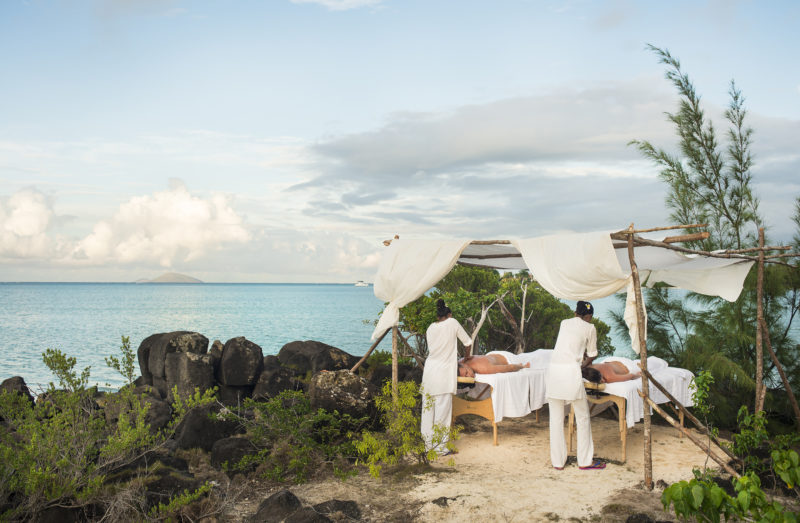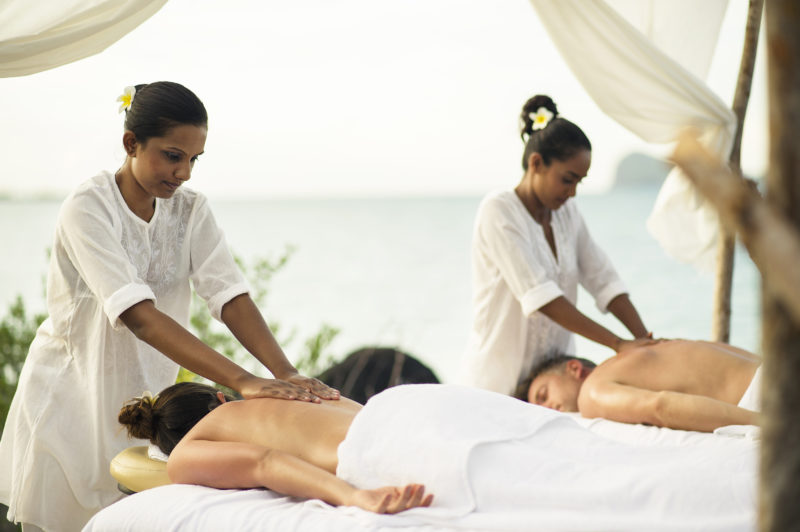 Spa Attitude
Spa Attitude care rituals based on genuine natural elements of Mauritius: its soil, its sea, its sun and its plants combined with essential oils contribute to a so genuinely Mauritian well-being experience.
Spa Attitude offers a complete range of massages, body care and facials together with its four signature treatments: Earth Attitude regenerating care, Sea Attitude purifying care, Sun Attitude stimulating care and Flora Attitude relaxing care.
Vilaz Masaz by Spa Attitude shows great respect when it comes to protecting nature. Situated in a very exotic environment the eco-friendly Spa with its solar heater, its freshly brewed herb teas straight from the herb garden is an invitation to a quite different experience.
Open every day from 09:00 to 20:00.
Prior booking at the spa reception
8 massage rooms: 4 single rooms and 4 double rooms
1 hammam
1 heated pool & a fountain of ice
1 beauty room
1 relaxation area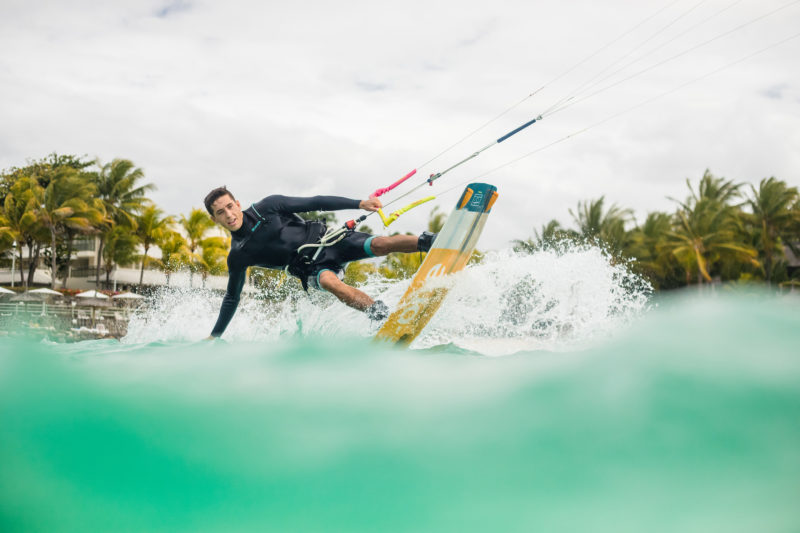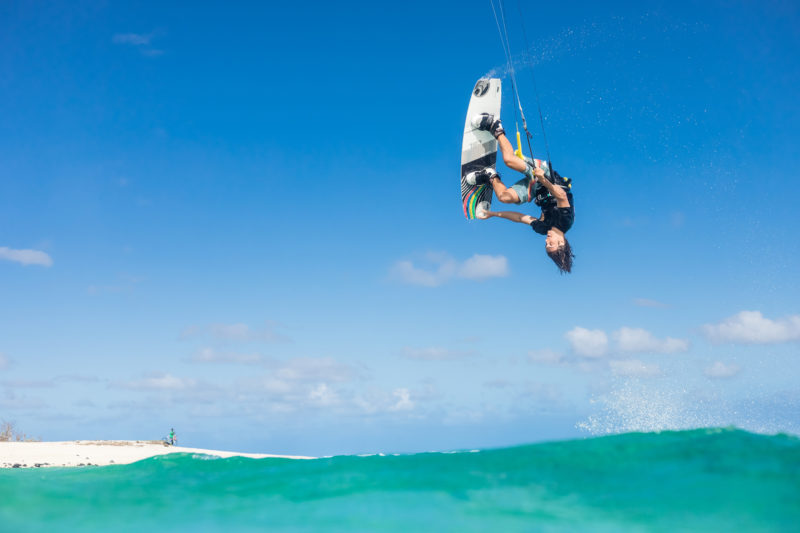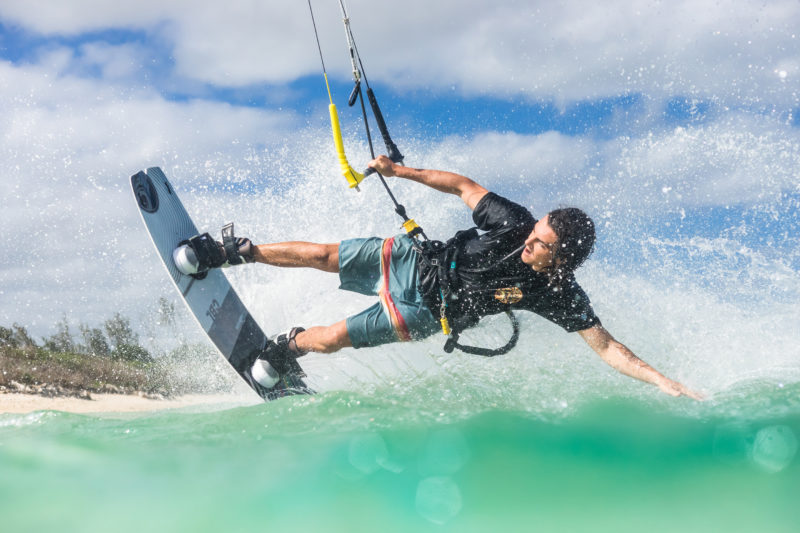 Kite Surfing
Kite Surfing is available on the crystal clear waters off the northern coastline just a short distance form the hotel. From beginners to well skilled acrobats, what ever your ability this eco water sport is sure to get adrenaline pumping!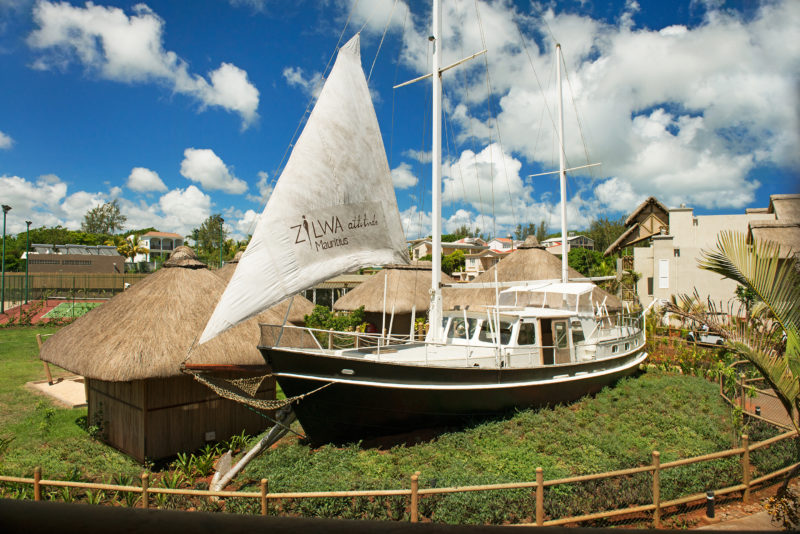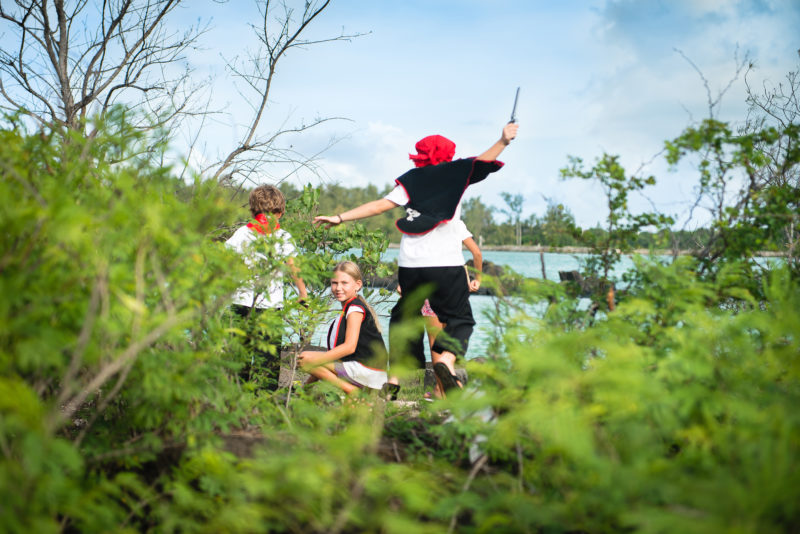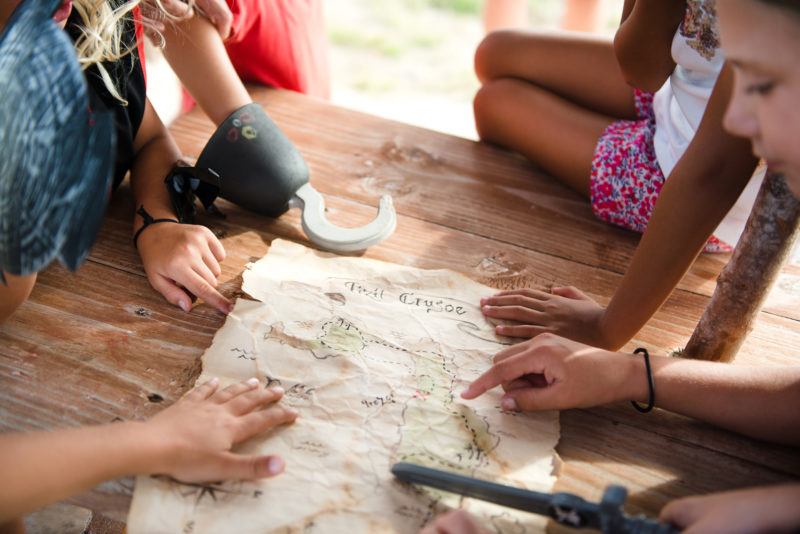 Kids Mini Club
At the mini club, "Ayo The Dodo", our famous dodo bird dressed up as a gentle pirate, is waiting for your children on its boat situated right at the entrance or will accompany them on a treasure hunt on Crusoe's island.
At the mini club, from 09h00 to 21h00, under the supervision of experienced and caring Family Members, children between the age of 3 and 12, to their great joy, are kept entertained, having fun and being creative. Among many other activities: colouring and cutting out, glass bottom boat trips, treasure hunt, occasional shows, games in and out of the swimming pool and even fun days with a special theme for the day…
With total peace of mind you can appreciate your holiday.
The plus : Your children can take their meals at the restaurant with one of the mini club Family Members, thus allowing you both a romantic evening.
Baby-sitting : The hotel also offers a day and evening baby-sitting service upon request, at extra cost. 24 hour prior bookings at the reception or at the mini club.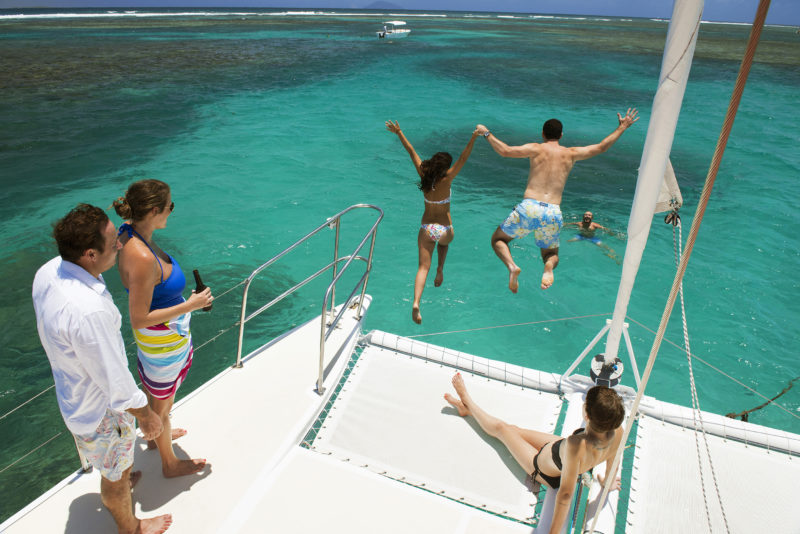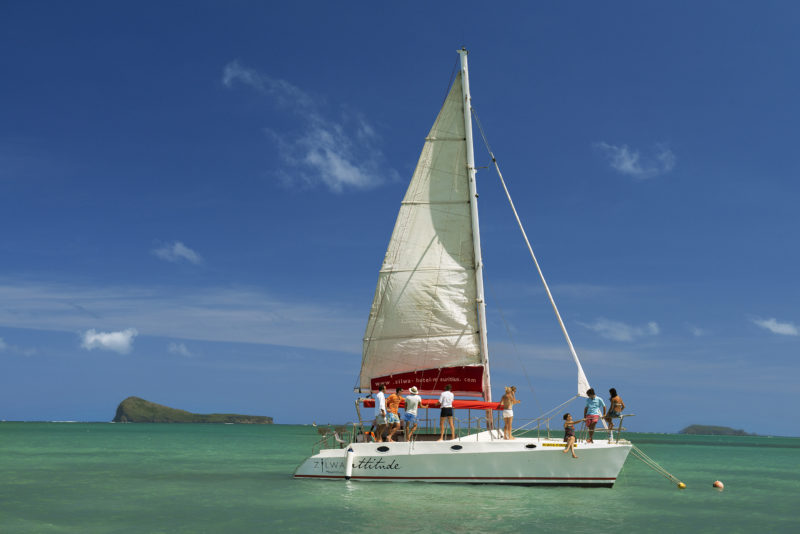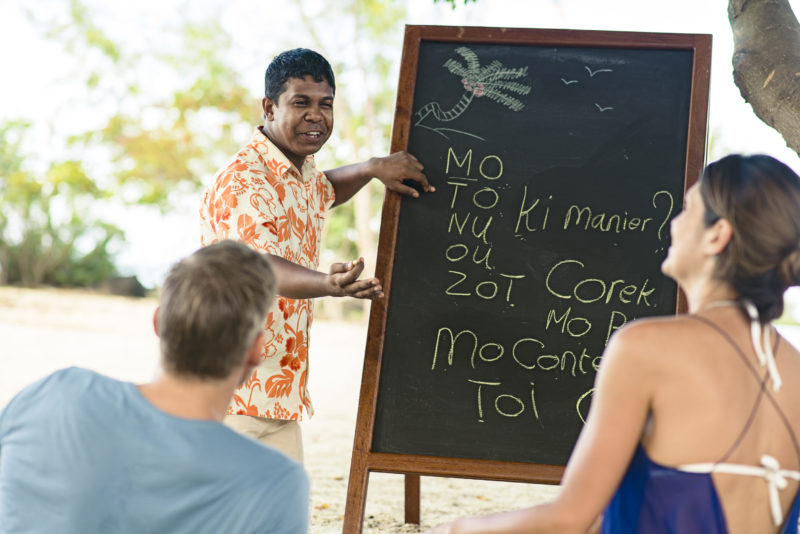 Zilwa Attitude Hotel Activities
Zilwa Attitude invites families, couples and newlyweds to live experiences inspired from local traditions: a sunrise pirogue trip or a treasure hunt for kids, among others… Not to mention many fun and relaxed activities: the mini-club Ayo le Dodo well nested in an old restored boat, the boathouse, the Spa Vilaz Masaz and last but not least a Robinson day on Ti Zil and Gran Zil, two private wild small islands.
Land Activities
Gym
Creole Lessons
Beach volley
Table tennis
Tai Chi
Petanque
Beach foot
Stretching
1 Floodlit tennis court (tennis balls at extra cost)
Board games and typical Mauritian games
Yoga
Bicycle (at extra cost)
Water Activities
4 swimming pools (2 main pools of 257m3 each, one pool of 300m3 including 25m3 for kids and a beach pool of 250m3)
Glass bottom boat
Kayak
Pedal boat
Snorkelling
Wind surfing
Stand up paddle
Waterpolo
Aquagym
Hobie Cat, small sailing catamaran
Boat house open every day from 09:00 to 17:00 in winter and from 09:00 to 18:00 in summer
PADI diving centre (PADI, CMAS) at extra cost
Kitesurf school managed by Ion Club
Catamaran (on request) at extra cost
Positive Impact Approach
Being an active player of positive development in Mauritius, Attitude launched 'Positive Impact', a movement intended to bring together customers, tourism partners, and more generally all the inhabitants of the island around a model of sustainable and reasoned development. Attitude Hotels have put the environment, Mauritian economy and communities at the heart of everything they do. A stay at one of Attitude hotels can be a chilled-out beach holiday – but also lead to a cleaner ocean, support for local families and empower people to develop their talents.
For over 10 years, Attitude Hotels have been working on both environmental and community projects. The aim for ethical and responsible eco practices have led to action and change already. Attitude Hotels have prioritised buying and investing in local businesses; found ways to reduce its negative impact on the environment; and developed ways Attitude Hotels benefits the local communities.
Since December 2017, all Attitude Hotels have received the Travelife Gold Award, a program honouring their ongoing efforts in environmental and social responsibility as well as Green Attitude Foundation's initiatives: water conservation, commitment to local communities and the Otentik Attitude experiences that value local traditions and craftsmanship. As a certified Travelife Gold member, Attitude Hotels are committed to an environmental approach to reduce the consumption and use of plastic. As from now, polluting plastic straws will be replaced by biodegradable straws in all bars and restaurants, only on request and for cocktails requiring one. Guests sign symbolically a charter on arrival, which lists a series of responsible gestures Attitude Hotels would like them to be part of.
Plastic & Packaging Practices
All Attitude hotels have a zero single-use plastic policy for guests, so you'll get a reusable water bottle on arrival. Visit the hotel's Bulk Shop and help yourself to coffee, tea and sugar for your room; use the free mineral suntan lotion that's kind to coral; and our beautiful interior design touches are often made from up-cycled materials.
Staying at Attitude Hotels it's helping suppressing more than 3 600 000 single-use plastic items including:
975 000 plastic bottles replaced by aluminium flasks
85 000 bathroom single-use plastic amenities replaced by dispensers
1 040 000 Individual sachets of sugar and coffee with the self-service bulk shop, take only what you need
Supporting Local Economy
Attitude Hotels fund small local businesses that align with its values, creating sustainable products and local jobs. Sourcing food locally, unless it cannot be grown or produced on the island. At Attitude we mainly source from Mauritian producers, whenever possible, as we know that this directly benefits the local economy. One example is the Mayaven family, a farming couple who provides our Zilwa Attitude and The Ravenala Attitude hotels with hydroponic vegetables using sustainable agricultural methods. This collaboration illustrates our wish to support entrepreneurship and to put the principles of circular economy into practice. Over time, their business has grown, creating new jobs and new sustainable practices such as agroforestryper, they have a team of 20 people growing our salad and vegetables.
You can also get a taste of Mauritian home cooking by ordering a tasty dholl puri from one of the street food vans, traditionally prepared by Mr and Mrs Chetty. Employing local people and suppliers is key to local sustainability, making a concerted effort to buy from local craftspeople, such as having most of the hotels furniture made in Mauritius, rather than choosing cheaper imports. The next goal for Attitude Hotels is for 50% of all the group's purchases to be from suppliers with the 'Made in Moris' certification by 30 June 2021.
Attitude Hotels created its own investment company : Otentik Investments Ltd, to strengthen its contribution to local economy.  Attitude Hotels helps promising Mauritian companies to thrive if they align with Attitude's criteria, which encompass eco-responsibility and the creation of jobs on the long term. After a period of financial and logistical support, which allows the company to develop, Otentik Investments Ltd recoups its initial investment and finances two or three new local entrepreneurs a year. One of the first fledgling companies to benefit is Kokodezil, a local and 100% natural cosmetics brand.
Community Care Practices & Supporting Local Talent
Attitude Hotels believe it's important to do business with locals, so that tourism benefits the whole island. This focus means you'll get a more authentic experience. You'll meet Family Members (staff) who have grown up in Mauritius; and can have dinner with a local family – one of Attitudes Otentik Experiences – where 100% of the cost goes to your hosts. Mauritius has some incredible home-grown talent, so an annual music competition is hosted to discover up-and-coming musicians.
Supporting Local Craftsmanship
Attitude Hotels decorate interiors with stunning local art and photography. Furniture for hotels are on the whole sourced locally, despite competitive prices from China and Bali, they choose to use Mauritian carpentry. Attitude has also created Otentik Bazar, a pop-up market at hotels giving local designers the chance to sell their products. Handicrafts include baskets, jams, jewellery and handbags made from recycled sails. Attitude takes no commission from the sale of any goods and 95% of the profit is paid directly to the maker with remaining 5% going to financing environmental actions via the Green Attitude Foundation.
Coastal Preservation - Marine Discovery Centre
Human activity has an impact on underwater life, so Attitude Hotels created the Marine Discovery Centre. It choose not to be a helpless spectator in the degradation of the environment. Located at Lagoon Attitude hotel, the Marine Discovery Centre aims to unite, inform and act together. The scientists here train and educate all of the stakeholders in the area, from the fishermen and local population to the guests that stay at the hotels, helping everyone to better understand and preserve the beautiful natural environment. Attitude Hotels employ two full-time scientists who are dedicated to studying the region's marine ecosystems and raising awareness of how to help protect this environment. Guests can arrange a visitation when staying at any of the Attitude Hotels.
Environmental Awareness
Attitude Hotels have educated over 20,000 visitors, including school children, local village residents, guests, local and foreign business partners and our staff, known as Family Members. The hotel group has created an underwater trail that crosses a protected area. This is a fun and educational aquatic activity that allows you to discover the beauty of the seabed without damaging it. The trail educates you about the fragility of this eco-system and the installation of beacons clearly show the areas accessible to swimmers, avoiding the vulnerable corals. A charter also regulates access to this area and involves the coastal communities that depend on the sea; and actions such as installation and maintenance of mooring buoys ensures boats no longer anchor in the area.
Child Policy
Children of all ages are permitted and children aged 0-12 are free. Family rooms can host 2 adults and 2 children and Deluxe Family Rooms can accommodate 2 adults and 3 children aged 0-12 or 2 adults, 2 children aged 13-17 and 1 child aged 0-12
Room Facilities
Free WiFi, Air conditioning, Flat-screen TV, Bath or Shower, Outdoor Bath/Shower, Toilet, Ensuite, Safety deposit box, Telephone, Free Tea & Coffee / Maker, Hairdryer
General Facilities
Non-smoking rooms, Facilities for disabled guests, Indoor restaurant, Outdoor restaurant, WiFi Available, Indoor bar, Outside bar, Inside swimming pool, Outside swimming pool, Air conditioning, 24 hour security, 24 hour concierge, 24 hour doctor on call, Airport transfers
Board Basis
Bed and Breakfast, Half Board + = Bed, Breakfast, Lunch and Activities, All Inclusive = Bed, All Meals, Snacks and Drinks, Fully Inclusive = Bed, All Meals, Snacks, Drinks and Activities
Room Types
Twin, Double, Triple, Family (2A 1C), Family (2A 2C), Family (2A 3C), Family Interleading