Malaysia - The Pure Breaks Top Picks
From the buzzing capital of Kuala Lumpur to the tropics of Borneo, Malaysia has an abundance of diversity to spoil any visitor. Dense jungles, beautiful beaches & space-age skyscrapers all in a unique escape to this amazing Asia country.
Pure Breaks specialise in responsible holidays to Malaysia, allowing you to travel in the knowledge that we have done the hard work, making sure your positively contributes to tourism and benefits local communities and the environment. A Malaysia holiday is perfect for wildlife lovers, those wanting a honeymoon that combines adventure with luxury or any family wanting to have an immersive experience that will be remembered for years to come.
We listen, advise, and create. Let us take you away to Malaysia.
We recommend these top Malaysian responsible holidays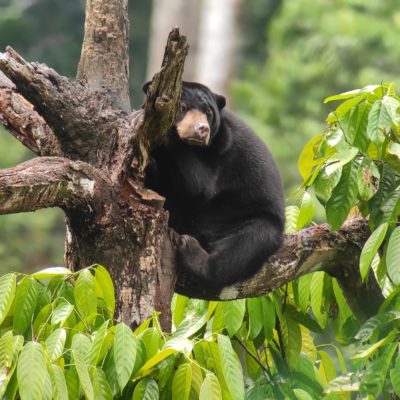 Why Malaysia?
Malaysia's wildlife is second to none. Your trip could see you hiking through jungle trails, having a wild encounter with a gang of monkeys, and visiting the unique Malayan Tapirs or the iconic Orangutan Rehabilitation Centre.
Explore Malaysia's capital, Kuala Lumpur, where ancient and modern worlds clash together in a frenzy of classical mosques, the remnants of an ancient bygone era, bustling street-food markets selling local delicacies, and towering glistening sky-scrappers. The constantly evolving city celebrates its traditional architecture without fear of introducing new and innovative structures such as the glimmering Golden Triangle (where brilliant shopping trips await), and the Petronas Twin Towers, two of the tallest buildings in the world at 452 metres! Be brave and step out over the sky bridge that connects to twins, offering unbeatable views of Kuala Lumpur.
Malaysia is home to a variety of thrilling and unique cities, including the beautiful riverside city of Kuching, believed to be named after a misunderstanding when an explorer inquired about the name of the area, and the indigenous people thought he was pointing at a stray cat, or 'kucing'. As a result, the city is decorated with various cat statues. Visitors can also delight in a trip to Alor Setar – home to a stunning display of traditional architecture, or Kota Bharu – the perfect location to learn more about Malay culture and view Buddhist temples.
Lose yourself in the Batu Caves, a complex system of limestone grottoes built into cliffs and crevices. Here, explorers can find caves, hidden temples and golden statues. Rock climbers can try out one of the 160 climbing routes, and animal lovers will enjoy spotting bats and monkeys that dwell in and around the caves.
Wildlife lovers can also visit Sepilok Orangutan Rehabilitation Centre, 43 square km of protected land where between 60 and 80 orangutans are being rehabilitated and cared for. Sun bears, gibbons, and elephants also receive medical treatment and rehabilitation. The centre is designed to encourage animals to gradually return to the wild where they truly belong, with monotonous feeding patterns that cause residents to begin to forage for themselves.
Wander under a canopy of towering Tualang trees at Taman Negara Rainforest, one of the world's oldest rainforests. 130 million years ago, this site was home to dinosaurs, and some of the dead tree trunks that remain there today date back millions of years. There are at least 280 tree species per hectare in Taman Negara National Park, the largest national park in peninsular Malaysia. Step across the longest rope walkway in the world and take in the incredible variety of flora and fauna that thrives here.
Experience the rich and aromatic delights of Malay cuisine, treating your tastebuds to dishes like Nasi Kandar, a creamy rice with delicious toppings, or Char Kway Teow, flat noodles with fresh seafood and vegetables. Malaysia is home to sweeping verdant rice fields, such as the famous Sekinchan Paddy Fields that stretch on as far as the eye can see, earning the area the nickname 'Malaysia's Rice Bowl'.
Another side to Malaysia lies along its pristine coastlines, boasting clear white beaches and bountiful coral reefs stretching out towards a scattering of tropical islands offshore. A boat trip here is like no other, and by day the turquoise waters might appear crystal clear, but by night the ocean literally glistens with emerald blue plankton for your eyes only. Malaysia will entrance you and we guarantee it shall leave you wanting more.
Where is Malaysia?
Your next Malaysia trip starts here